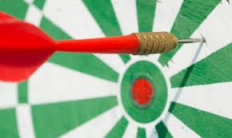 Because at GoedBericht.nl, it is being taught that the good God, is the Creator of evil and that all has been made for its purpose, I often receive various reactions. Many seem to have difficulty seeing that evil and sin are part of GOD'S plan. This is rather strange, because they would have reasons to worry if it was different! Imagine, that sin was a kind of "work accident" for God. That all the suffering of so many thousands of years is superfluous and for nothing. And how can we be sure that there will not be a repetition of such a "work accident" in the new creation? Anyway, someone remarked in a circular way, in response to my one of my weblogs:
If André is interpreting de texts from Isaiah 45 and Proverbs correctly and if his explanation is appropriate, that the Lord would have made everything for his purpose, then, missing the target is something that cannot exist. A sinner, created by God, would not miss his target, if he would sin. After all, everything is by God so intended, right? Is it not so that He has created everything for His purpose, even those wicked for the day of evil!?
This argument looks like two drops of water on the suggestion of Paul's opponents, in Romans 9.
You will be protesting to me, then, "Why, then, is He still blaming?
Romans 9:19
The Apostle had, in the preceding verses, explained that someone like Pharaoh, a powerful and disobeying tyrant, was a suitable instrument in God's hand. GOD wanted to display His power (9:17) and therefore chose this ruler. Such a statement makes the following objection very predictable. For if God has a purpose in everything, why does He still find fault? Then missing the target (purpose) does not exist, does it? And indeed … from GOD'S side this is true. HE has with everything a purpose. The missing of the target is entirely that of the creature and is relative. Whoever does not listen to God's revealed will, is missing out in life and on blessings. Since this is the purpose to which every human being is created, man is missing the target as long as God's purpose with man has not been achieved. But please note: this applies to man, not to God. For the route that God goes, via sin and death is necessary for His grace and love to be displayed. God's purpose is excellent and that also applies to the way that He goes towards His objective. Without sin (of humans) GOD cannot reach His goal. Therefore, Paul concludes at the end of his profound speech:
For GOD LOCKS UP ALL together in stubbornness, THAT HE SHOULD BE MERCIFUL to ALL.
Romans 11:32
And then he "loudly exclaims"…
O, the depth of the riches and the wisdom and the knowledge of God! How inscrutable are His judgments, and untraceable His ways! For, who knew the mind of the Lord? or, who became His adviser? or, who gives to Him first, and it will be repaid him? SEEING that OUT OF HIM and THROUGH HIM and FOR HIM is all: to Him be the glory for the eons! Amen!
Romans 11:33-36
———————————
Translation: Peter Feddema